VoIP PBX Wizard
From berofix - professional SIP gateway
The VoIP PBX Wizard makes the typical Setup of a VoIP PBX together with a beroNet Gateway easier. It supports external ISDN, FXO or GSM Trunks and Internal ISDN and FXS extensions. Internal extensions will register as SIP extensions with the VoIP PBX, so that they are part of the internal VoIP Phones.
Accessing the Wizard
The wizard is accessed by browsing to the URL:
http://beroNet-GW-IP/apps/api/voip-pbx.php

the default username and password are "admin:admin"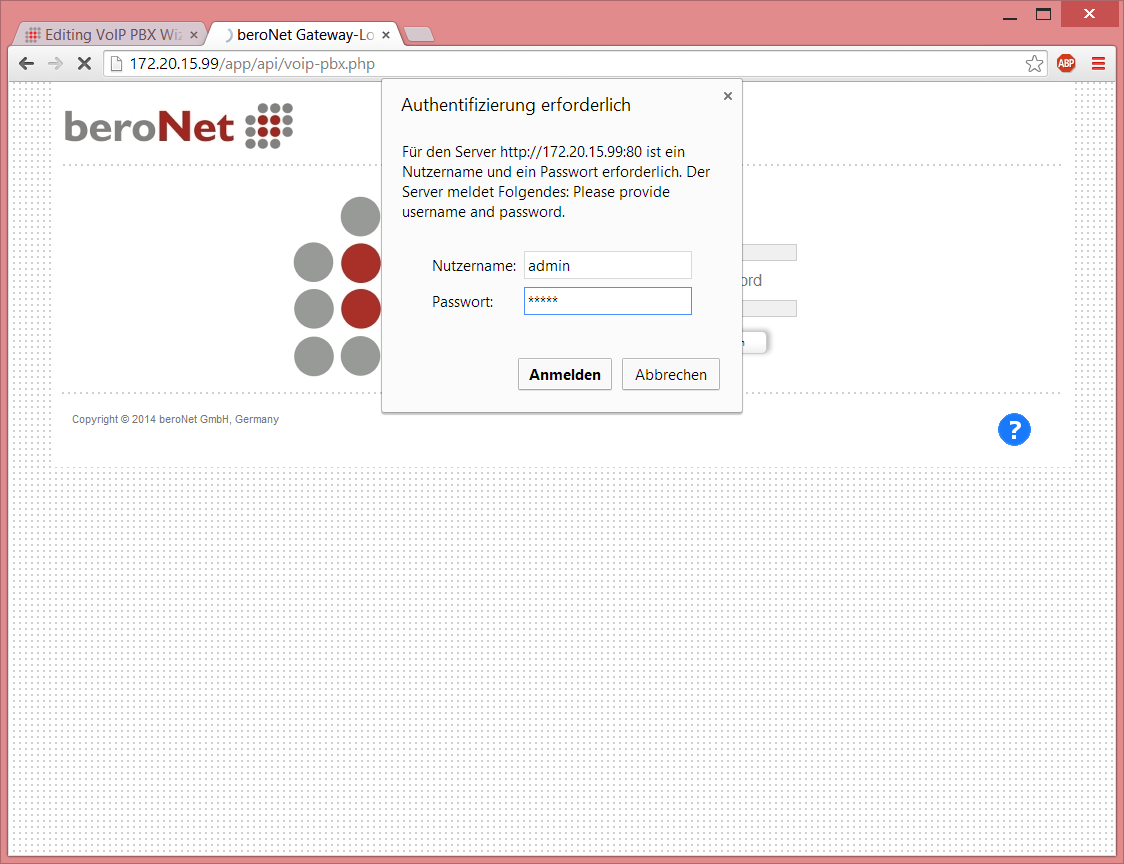 The Wizard GUI
The wizard of a 2BRI 2FXS beroNet Gateway looks like: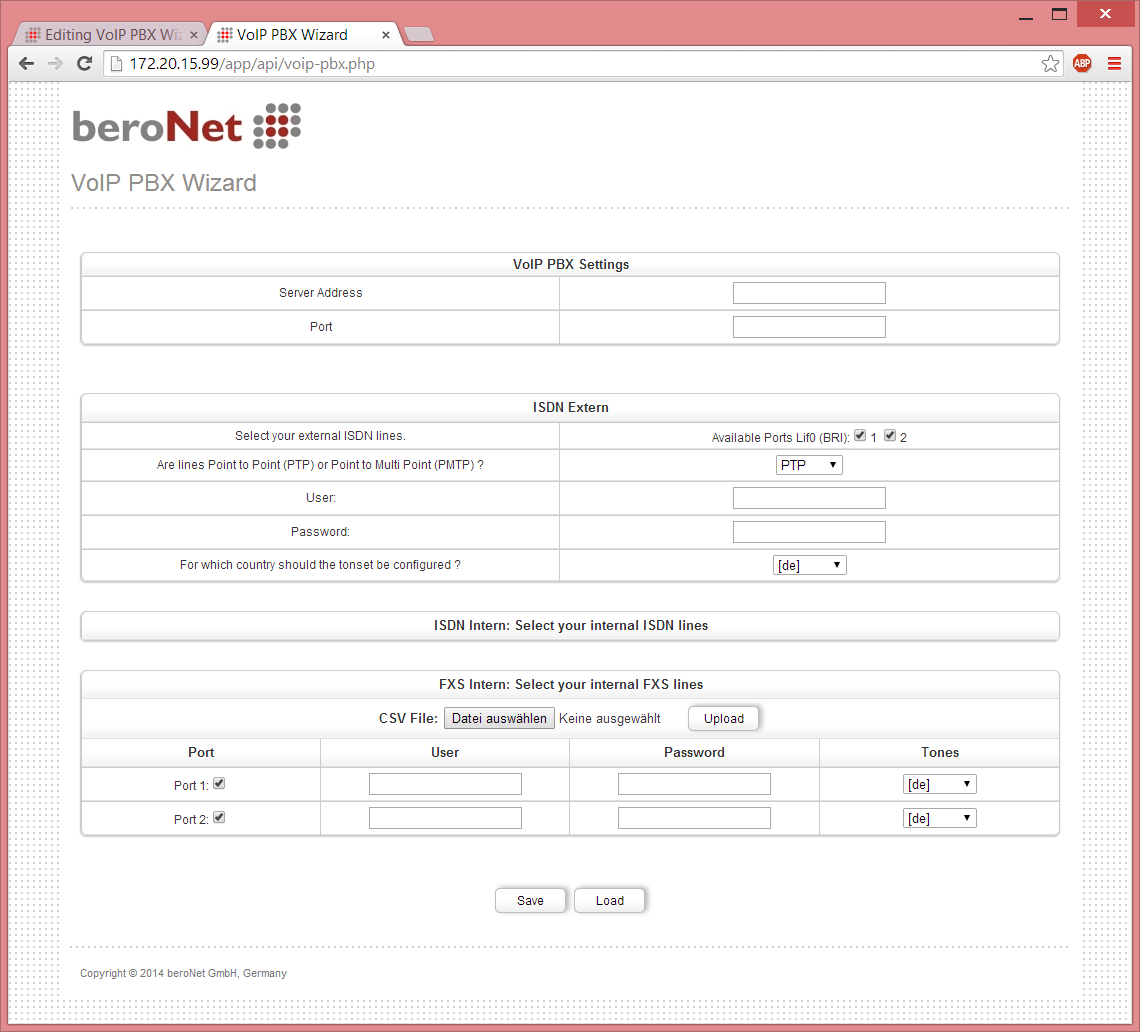 There are 3 regions: VoIP Server, ISDN Extern and FXS Intern.
VoIP Server
The VoIP Server is simply the IP Address and the Port of the VoIP PBX.
ISDN Extern
In the ISDN Extern region it is possible to set/unset the ports that should be grouped together for the external ISDN Trunk. It is also possible to change the Signalling Mode from Point-To-Point (PTP) to Point-To-Multipoint (PMP). A username and password must be provided which is used for authorization at the VoIP PBX for incoming ISDN Calls.
The country setting defines the toneset that should be used.
FXS Intern
FXS Ports are used to connect devices like phones or FAX Machines to it. Each Ports will register with the VoIP PBX as a unique Extension. For the authorization of the registration a username and password needs to be defined per port. Also the toneset is configurable.
It is also possible to upload a CSV File for FXS extensions. This is usefull for Gateways with multiple FXS Ports like the 16FXS Gateway. The layout of the CSV file looks like:
$port,$user,$password,$toneset

for example:
1,test1,test1,[de]
2,test2,test2,[at]

ISDN Intern
It is possible to remove a port from the external ISDN Group. Then it will be available as Internal ISDN Device. This is userful for ISDN Phones or ISDN Fax cards.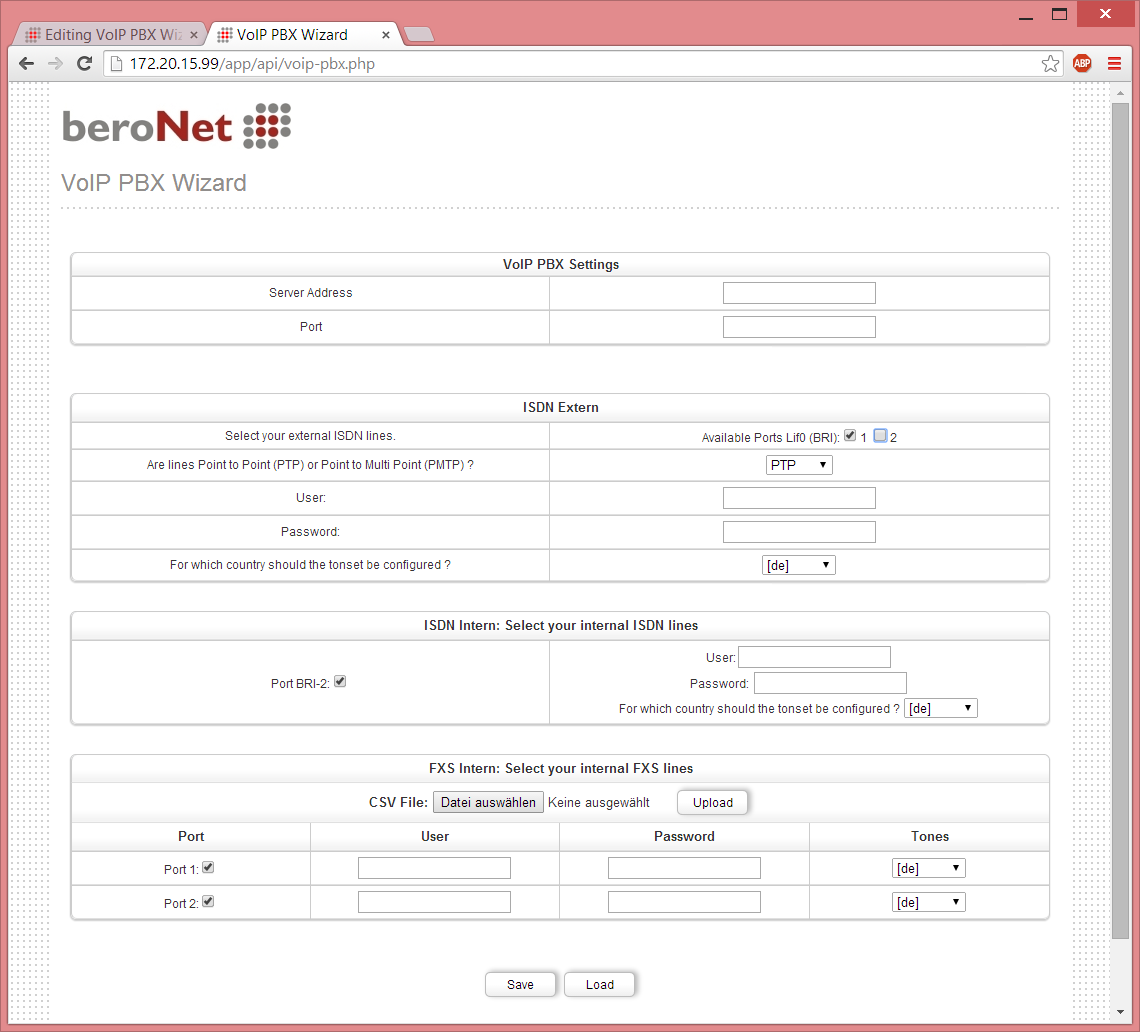 Each internal ISDN Port needs to have a username and passord with which this port is registered with the VoIP PBX. A toneset can also be defined per Port.
Save and Load
The Settings of the VoIP PBX Wizard can be saved and loaded. After clicking on save, the device will need an activate which results in a reboot. If the configuration needs to be changed at a later time, the wizard can be called again and load the previous wizard settings.